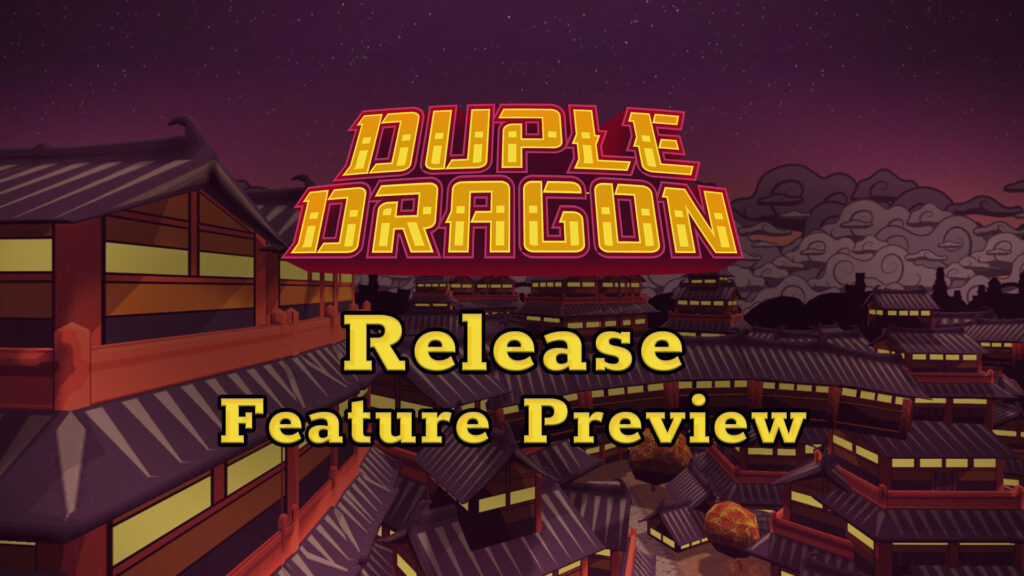 A Look to the Future

Spirits are high right now after our early access release. We're all very happy to finally have the game out in the real world, and we appreciate all the feedback those of you who have tried the game have sent so far.
Our current plan is still to fully release the game on April 1st, so what can you expect to see change in that time? Today we wanted to preview our planned features and improvements for release.
Haven't Tried the Game Yet?

Planned Release Features and Improvements
More Gameplay Variety

Duple Dragon's weekly stages are procedurally generated from a pool of hand-built pieces. These pieces are grouped by different themes. We'll be expanding the possibilities for existing themes, as well as creating some new ones. This means more possibilities each week, which means more variety over the long term.
A Second Environment for Hard Stages

Those of you who have made it to stages 16-18 may have noticed that while each other difficulty tier has two environments, Hard only has one. We simply didn't have time to make this final environment by our early access launch date, and we will be adding this missing piece for release. What will it be? We'll leave it a mystery for now, but think high up.
A Closer Look(s)

Right now when customizing your dragons on the Looks Menu you're limited to the small previews at the top. While these work for quickly experimenting, we'll be adding a way to enlarge the previews to fill more of the screen when you want to get a closer look at what you've created.
Polish and Bug Fixes

We know some of you have already run into some bugs (thank you very much for reporting them!)
We'll be fixing everything we can get to by release as well as adding in some other small polish and quality of life improvements. You can expect any bugs that crop up after release to continue getting fixes as well, so don't worry if something you noticed doesn't make it by release. Don't hesitate to continue reporting issues you're seeing. It really helps!
Two larger known issues we'll be fixing are:
Stages sometimes fail to load properly after an interstitial ad (this is a major issue and is at the top of our bug list right now). If you've encountered this problem, the current work around is to fully close the app and relaunch it.

The control option "Return to Center on Release" doesn't work as advertised. Right now this option is actually returning you to center when you move off of one of the movement buttons instead of release. This is undesirable behavior and will be fixed to work as described.
Thanks for Playing
We really appreciate all of you who have tried the game. If you like it, please recommend it to your friends as well. We're a tiny operation with tiny resources and word of mouth recommendations make a huge difference for us.
We hope you're enjoying the game so far. Don't forget that new stages are released weekly, so check back on Sunday for a new batch for all difficulty tiers and another opportunity to earn difficulty completion rewards. The shop also gets a new batch of items every Sunday, so don't forget to see what's available.
Haven't Tried the Game Yet?