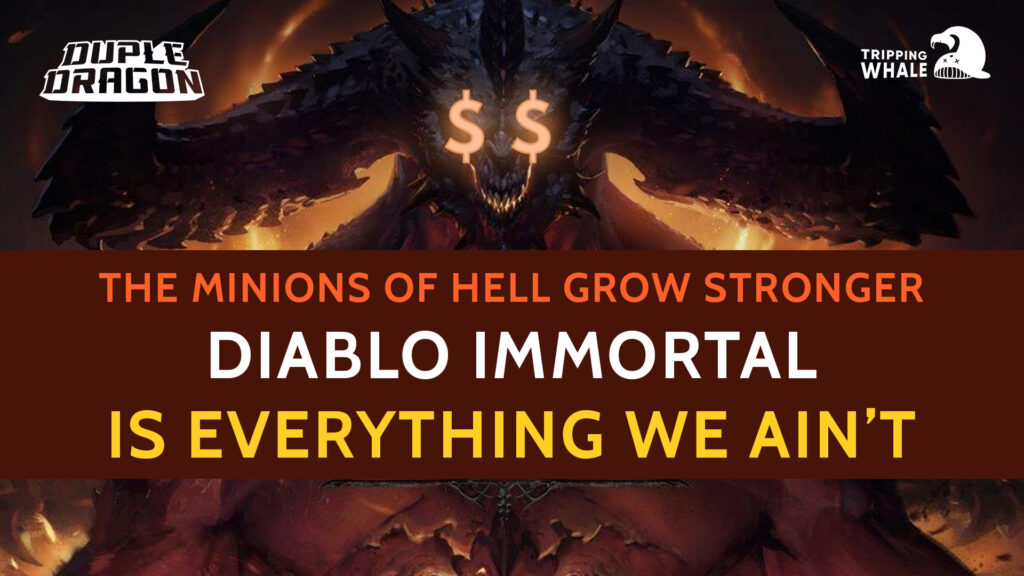 Our Stance on Diablo Immortal and Monetization
Diablo Immortal has been in the gaming news recently for all the wrong reasons. It's a common story these days, an otherwise fun AAA game is irreconcilably marred by predatory monetization and dark UX patterns. With reports of it taking potentially 10 years of playing for free or upwards of $100,000 to fully upgrade a single character, along with the blatant pay-to-win design, Diablo Immortal has taken this depressing state of affairs to never-before-seen heights.
When we set out to build Tripping Whale and our own mobile game, Duple Dragon, we did so with the explicit goal of making games that are games first and business second. In Duple Dragon's case, we created a free-to-play game that has a much more equitable distribution of rewards between players who choose to spend their time versus those who choose to spend their money. We wrote a whole blog post about how we did this last year.
Duple Dragon, which you can play right now on Android and iOS, has no premium currency. What you earn playing the game is exactly the same currency as what you can buy in our store. That means 100% of the rewards in the game can be earned through gameplay alone. Our gameplay-affecting rewards require experience points in addition to currency, and this experience can only be earned through playing the game. We did this to ensure that it isn't even possible to buy your way through the experience. No matter how much money you spend on the game, you will still need to play it to receive those gameplay affecting rewards.
In an era where it can feel like the game industry is dead set on forcing the unpleasant realities of money into our digital escapes and turning our leisure time into another form of work and business, we at Tripping Whale are committed to doing better than that. If you, like us, are sickened by the Diablo Immortal situation and the state of monetization in games as a whole, we humbly ask you to give our little game a shot. We are confident you'll find it to be a much more welcoming experience.
All three of us at Tripping Whale are big Diablo fans, and we're very disappointed to see the franchise go this way. We can't sum it up any better than Carbot did, so we'll leave you with their video on it. Thanks to everyone supporting indie games and all of the wonderful artists, designers, and developers who still believe games can be more than money.