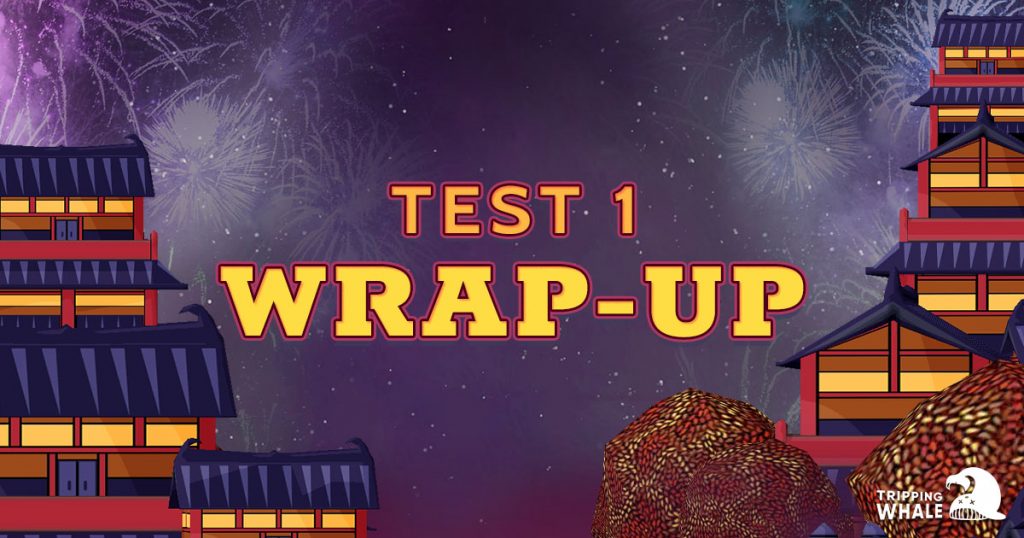 Welcome to Our First Ever Dev Blog!
This, our maiden dev blog, marks the start of public news posts from Tripping Whale. We will be posting a new dev blog on the 10th of every month. We may slip in extra posts here and there, but the 10th is when you can count on stopping by and learning what we're up to.
Spread the Word; Keep in Touch
Our newsletter will be your main source for news, blogs and announcements from us.

Our Discord server will be the main hub for community interaction with us, and joining helps us a lot even if you don't plan to chat. 
Any word of mouth recommendations you can give us for both of these resources are invaluable. Use these links to sign up:
Test 1
With that out of the way, this first blog is talking about Test 1, which wrapped on November 1st.
Our objective was to see how enjoyable the core experience of Duple Dragon was in its most basic form. If the game at its simplest wasn't fun and engaging, we would need to go back to the drawing board on Duple Dragon's fundamentals.
Lessons Learned From You
You Loved the Fundamentals…
We were overjoyed to find that the core experience was very positively received. You told us it played smoothly, it was challenging but rewarding to get better at, and you loved the visuals and customizing your dragons.
This is the best result we could have hoped for, and we're so happy you could enjoy what little there was to see so far.
… But Our Communication Needs Work
We didn't do a good job at communicating how levels worked in this test. They were completely random, and there was no progression to them. Your feedback told us that this was not communicated well, and using the word "level" implied there should be a "Level 1, 2, etc." We agree.
We also didn't communicate well enough why the game was so difficult. We wanted you to have something to work towards over the week-long test period, but many of you struggled to win a single level. This was frustrating, and we agree that we overdid it.
What's Next?
There are two main areas we are focusing on for our next test: progression, and a series of levels to ease you into the game.
Test 1 was very shallow. There weren't any long term goals to work for beyond improving your score on the leaderboard. To help with this, we are building a robust and long-term progression system which will let you unlock new abilities for your dragons.
We will also be adding a short series of levels with increasingly complex sets of items to collect. These levels will help ease players into the game more gradually. We intend to expand on levels in a big way further down the line, but this is our first step to getting there.
Thank You for Testing Duple Dragon!
We can't thank you all enough for your time and the feedback you submitted. We went through all of your feedback in detail, and just because a specific concern isn't on the short list, it doesn't mean we don't have plans to address it further down the line.
We hope you found our wrap-up interesting and that you'll check back with us on December 10th for our next post.
Don't forget to sign up for our newsletter and to join our Discord server so you can stay up to date with Tripping Whale's development of Duple Dragon.